Top secrets for senior portraits revealed from our photographers in Destin
If you are visiting Destin, Florida, this spring what a perfect opportunity to capture your Senior Portraits! Luckily enough, we are pros on the beautiful beaches around town and all they have to offer. This results in unique backdrops for one of your most memorable snapshots of your life.
Not only can we advise on locations, but the session itself will be completely custom to your personality. If you are a little late to the party and need 2023 Senior Portraits, or if you are a pre-planner and are currently deciding on 2024 Senior Portraits, our photographers in Destin, Florida, would like to share our most valuable recommendations when it comes to having an unforgettable beach photography experience!
Beach photography captured at Henderson State Park
If you are a first timer visiting Destin Beach, Florida, you're in luck. You can cross two items off the "to do vacation list"–beach photos and visiting the local state park!
If you are a returning tourist and have never been to the local state park, Henderson Beach State Park provides a wide variety of sites to capture the exquisite views of the Gulf while maintaining the charm of the Destin Beach area.
Whether you are wanting dunes or wooden walkways or just simply the breathtaking views of the Golden Hour, Henderson State Park has it all. It's private and provides plenty of parking, resulting in effortlessly being prompt for your set appointment time.
What time is best for my Senior Portraits?
Sunset and Sunrise make for the best lighting for photos taken in Destin, Florida. The sky and weather patterns change daily meaning the main focus becomes lighting. We are never guaranteed a perfect sunset every day, but we still can take great photos by avoiding the harsh daylight. The times closest to sunset can provide more orange and yellow color while earlier afternoon photo session lend more to bright blues.
Once again these are your photos, so our friendly Destin Beach Photographers are more then happy to discuss time selections and what the color scheme usually is during that those specific times. Photos can look dramatically different based on what you wear, time of day, tone of skin, etc. Needless to say, you can research our Destin photo galleries to get some ideas of what you may like!
Suggested items to bring to the photoshoot
This session is all about you, so we highly suggest bringing whatever will help express yourself. Whether you are a dancer or a football star, simple objects can help transform your session. If you would like an outfit change during the session, this can also add to the variety in the shoot. And the best part is there is no extra cost for the outfit change! Just ask about details when booking so we can plan accordingly.
Other suggested items recommended by our Destin Beach Photographers:
Lipstick or Gloss for retouching
Hair Pins or Hair Ties for windy days
Cap and gown
Class ring
Hobby Objects such as baseball glove, basketball, instrument, etc.
One casual outfit; one dressy outfit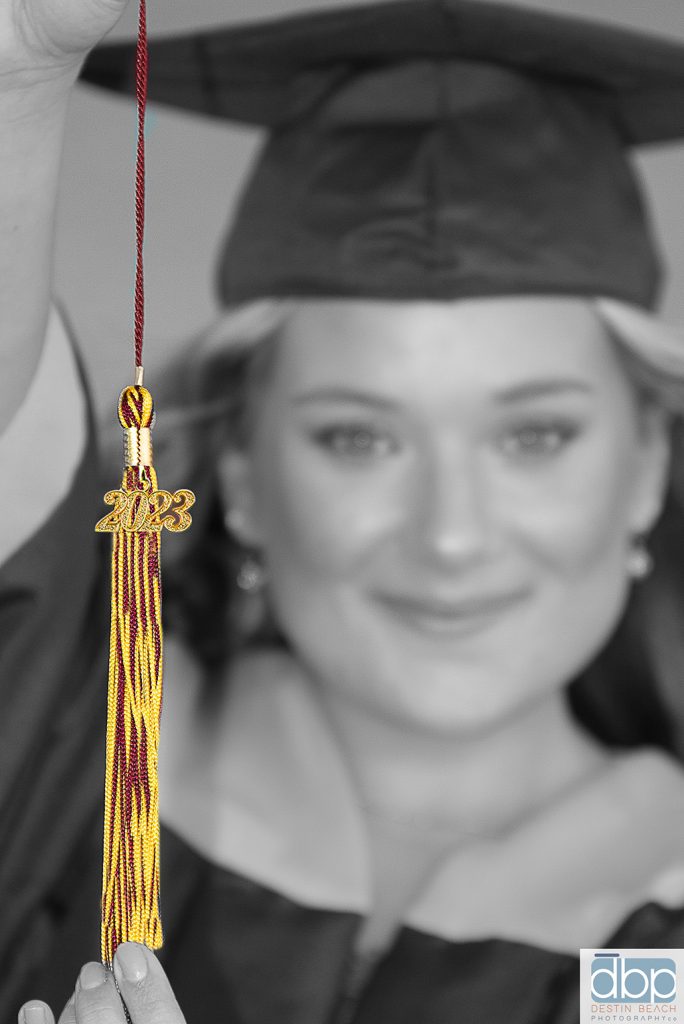 Take aways
Senior portraits on Florida's beaches make for stunning photograph, but we are all about having some fun during our time together. Our Destin Beach photographers are skilled with the camera, but also encompass one-of-a-kind personalities that will surely create a genuine smile.
And don't forget to bring the family along to jump in a few shots. Yes this entire photo session is about you, but why not get some family beach portraits while your altogether. Just mention you want Senior Portraits and Family Photos all done within one photo session and we will make it happen.
Our beach photographers are here to help and share our knowledge with you so your photoshoot is effortless. Let us capture your special Senior Pictures this Destin Beach Florida vacation!
Booking Inquiries and Questions