Things to do in Destin FL and family activities this summer vacation
As an adult, sitting contently on the beautiful beaches of 30A and Destin Florida is paradise for most. Simple, quiet, and relaxing. On the flip side, children at the beach are looking for a bit more excitement! We are sharing top things to do in Destin, FL ,this vacation to keep the whole family happy.
If only we could pack the baby-sitter too, right? Don't get me wrong, the best trips are family trips to the beach! You get to make new memories with your little ones and if you're lucky the extended family joins in on the fun. But between packing and planning and booking, family vacations start to become more work than a relaxing getaway.
Here are some of our favorite things to keep the entire family occupied this visit to Destin. Affordable activities, ways to manage you time on your visit and popular sites to see.
How to book photographers in Destin, FL
Planning family beach pictures is the perfect family activity for all. You can treat it like a night out. It's fun for the kids and you end up with beautiful beach photos when it's all said and done. But nowadays, beach photos can practicality break the bank. Our suggestion? Do your research!
Lucky for you, we already have. Here at Destin Beach Photography Company, we love keeping it straightforward and as simple as possible. After all, you are on vacation.
We also do not charge a deposit or sitting fee! We absolutely know you will love your portraits from our highly skilled Destin photographers, so no need for extra fees. Check out our photographers' sample portfolios.
Another awesome thing to consider is Henderson State Park –a local state park where the photoshoots are conducted. So come a little early and enjoy our local state park.
Browsing the town
Destin has fabulous boutiques and shops all over. From hand crafted decor to beach gear, Destin, Florida, shopping possibilities are endless. Here are a few spots where you can make the outing a fun family experience.
Harbor Walk Village is a great pick to pair shopping, site seeing, and dinner. The boardwalk is loaded with little huts and shops to browse. It's right on the water, so the kids can watch the boats go by while choosing where to grab a bite to eat.
Village of Bar Town Wharf is a great choice if you have littles. The site is loaded with kid-friendly activities like playgrounds, an Adventure Zone (rope courses and zip lining), and even a carousel. With weekly movies and music this spot is definitely one to check out.
Destin Commons is another great spot to bring the family. I would consider this location more mall like. Chains stores sprinkled through local shops. This a great selection if you have teenagers.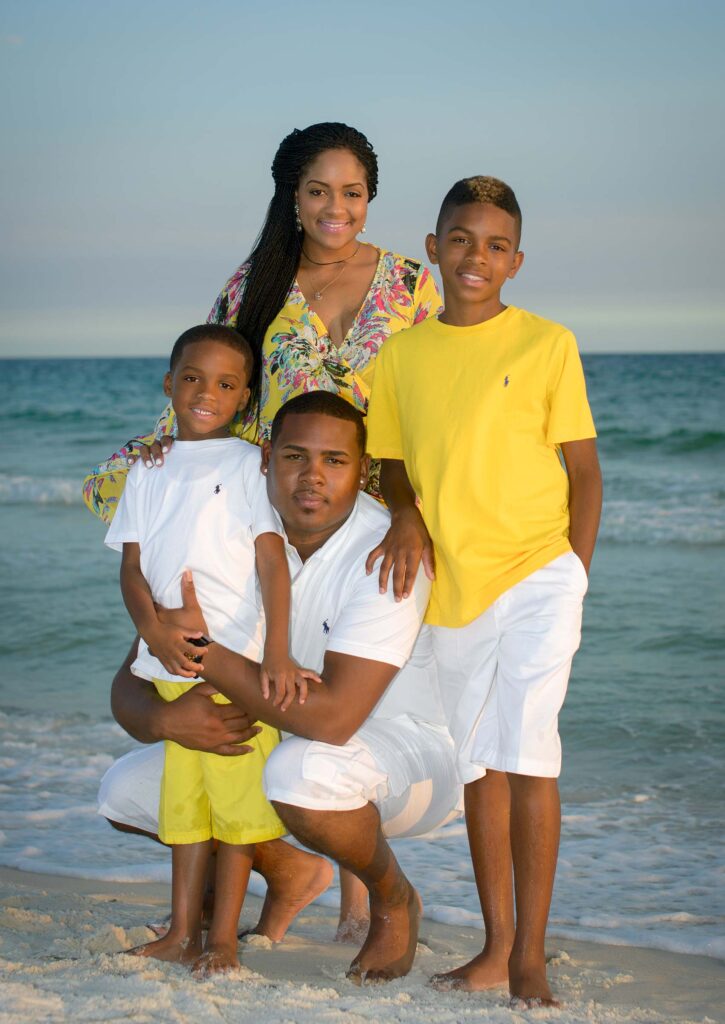 On the water activities
This idea is a bit obvious, but since their are so many selections for Watersport activities, we wanted to share our favorites.
Apex parasail has two locations. (San Destin and Miramar Beach) If your looking for a parasail operator, these are the guys! With great reviews and fabulous photos of the parasail trip, this company cares about their riders.

Another great company that provides a variety of tours and excursions is Sunshine Watersports. From parasail rides to boat rentals, these guys offer a variety of thrilling watersport activities. We highly recommend going to Crab Island if you wanting to spend half or whole day on a boat.
Other fun actives like paddle boarding and banana boating are great for a more budget friendly option.
Kids discounts and specials
We all know traveling with kids isn't cheap. So wherever you can save, we would love to contribute. Here are a few great deals that will help save this Florida vacation.
Whatever you plan to do with your time this vacation, make sure to save some down time between all the fun filled activities. The last thing you want is a rundown toddler with no nap on a vacation. We highly recommend to families traveling with little ones to try to continue the schedule you follow at home.
We hope this list of activities will give you some direction on how you would like to spend your summer vacation to Destin, Florida!