16 tips on what to wear in Destin beach photos
How do you effectively pack for a family trip traveling to lively Destin, FL, for the entire week? Let alone outfit coordinate for family beach portraits?
Our photographers in Destin, FL, have seen it all–from ketchup stains to baby spit up right when we were about to take that perfect snapshot. Over numerous situations, we have learned a few tips that will help avoid these photo fails and actually make planning effortless.
Remember these 16 tips from our Destin photographers when planning to pack for your family portraits!
Helpful wardrobe tips from our Destin Florida photographers
Classic colors never go out of style.
You want to choose colors that will remain timeless and make beautiful artwork for your home. Think about where you are planning to display the images and bring some accent colors into your attire.
Multi-shades clothing for large group photos.
Planning a vacation for a large group is stressful enough. Being flexible on outfits is a must in order to make it a pleasant experience. Find a few colors and pick various tones that everyone can choose from. Also, give plenty of notice to all that plan to partake, so they have adequate time to get prepared.
Avoid clashing patterns.
You don't want your beach portraits to look too busy. Balance your pattern clothing with solid colors.
Choosing the right color scheme.
Think of the dynamic of your group. Skin tones, hair color, or even the number of people planned for the beach portraits. Choosing easy to find outfits that everyone feels their best in will lead to a great family photos!
Layout all the side-by-side outfits to get a good visual.
We suggest snapping a few photos of the outfits all together so you can really envision your beach photos. This will give you a great visual for what's to come!
Coordinate but stay away from matching completely.
If you're looking to have an updated portrait try something new. Pinterest has plenty of attire coordinating ideas to browse through. Just search for, what to wear for beach photos, the results are endless.
Young children, bring a spare outfit.
Let's just say it's better to be prepared. Photographers in Destin Fl have seen their share of ketchup stains and spit up. If you child is a toddler or younger, we highly suggest bringing a spare outfit.
Try on outfits before you leave town.
This helpful tip will help you avoid last minute scrambles. There is nothing worse then on the big day, the dress doesn't zipper. Save yourself the headache and try on the outfits before you leave your home.
One person should pack all items for the photoshoot, so on day of they have everything organized.
This tip is not for every family; however, if you want have a "type A" personality in your family this is a game changer. You are on vacation, so act like it! On the day of your photo appointment, you can make it an easy preparation by having everything organized and ready to go.
For anyone with long hair, style it away from the face with hair pins.
Our photographers in Destin go the extra mile to really make sure you are comfortable, and also that you maintain your "look" through the entire shoot. If your hair is long, we suggest pinning it away from the face. And a loose braid always looks fashionable.
Keep an open line of communication between family members.
This is a great opportunity to get family members talking about the photo session. Although not everyone may share the same enthusiasm, you may want to get everyone's input to kick start that it's going to be a positive experience.
Loose fitting or flowing clothing looks really great in the sea breeze.
Everyone wants to be comfortable while posing for family pictures on the beach. You will be standing, sitting and walking during the photoshoots. Loose attire is suggested for these reasons.
Props are fun, if you're celebrating a special occasion.
Each Destin photographer has plenty of experience working with numerous props. Balloons, baby sonograms photos, deceased photos of a family member, or wooden numbers for an anniversary shoot all have been incorporated into our photoshoots.
Have fun when planning.
When all said and done, this should be a fun planning experience.
Forgot your outfit? It's a great excuse to go shopping.
Everyone loves to go shopping, especially when vacationing in Destin, FL! You may even pick up a few beach souvenirs while you are browsing the town.
Browse through our photo galleries to get brain storming!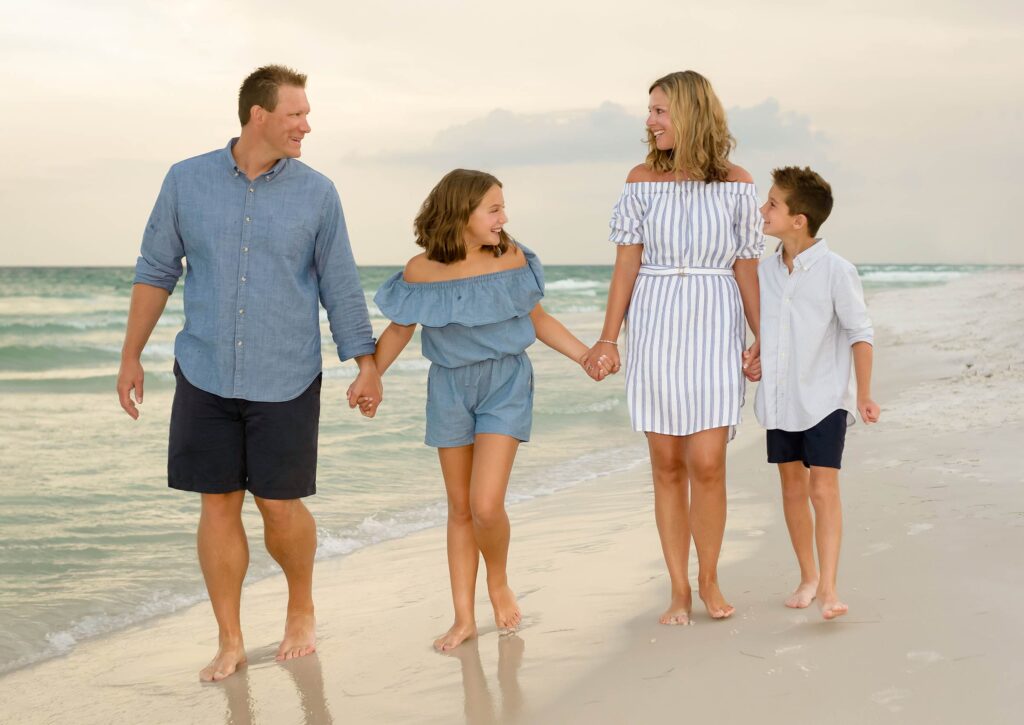 Are you ready to book family beach photos?
If you have become inspired with these helpful tips, a friendly team member is available to answer any additional questions you may have. If you have no questions and are ready to book your photo appointment, what are you waiting for?
You are one call away from an unforgettable photo experience with our award winning photographers in Destin for an unbelievable price!