Beach photoshoots explained from our photographers in Destin, FL
If you're looking for quality as well as quantity, our photoshoots offer a wide variety of poses and are jammed packed with fun for all. Your beach photos this Destin vacation should be an easy process that doesn't break the bank!
Here at Destin Beach Photography Company, we believe in offering high quality photography for an affordable price. Our photographers in Destin, Fort Walton Beach, and Miramar Beach, Florida, want to share some pro advice when shopping around for your next family photographer. We have high respect for all photography services, we just would like to highlight what makes us a unique photography service.
Budget friendly photos
Let's be honest. Planning family beach pictures nowadays can practicality break the bank. And we haven't even mentioned the tons of stress it can bring. Our beach photographers suggest a starting budget. This helps prevent the overwhelming feeling worrying about spending while on your trip, while also keeping within a range where you don't go overboard.

Here at Destin Beach Photography Company, we love keeping it straightforward and as simplistic as possible. After all, you are on vacation!
So to keep our budget affordable, we offer no limit on group size — which is fantastic for large families and reunions. You can even split the payment.
We also do not charge a deposit or sitting fee. We absolutely know you will love your portraits from our highly skilled Destin photographers, so no need for extra fees.
Client feedback
When it comes to family photographers in Destin, FL, there are so many choices. How does one choose? We highly recommend doing some shopping to see who is the right fit for your needs. Our pro photographers believe that yes, you can have fabulous photos on your website, but the power of client satisfaction is very important. We suggest paying attention to client reviews as well as quantity of feedback. This can indicate how experienced a company is in their craft.
See what clients are saying about Destin Beach Photography Company:
Highly Recommended!!! Pat was very accommodating, helpful, & did an amazing job with the kids. Price for photo packages with full rights to ALL our photos was perfect! Our images turned out great & will be using them again when we return..thank you!!!

Citalouise Geiggar
Great company-we had a group of 16 and they did a wonderful job accommodating everyone's pictures and individual family pictures. The turnaround was 2 days which we loved as well! We would definitely recommend them and use them again in the future!

Holly Canter
Our large family of 27 wanted a photo from our recent family vacation so we booked with Destin Beach Photography and were so happy we did. Our photographer Patrick was exceptional. He was very personable, professional, excellent with children, quick and extremely efficient working with such a large group. He took photos of our entire group then took photos of each individual family. This could have been a challenge for many but Patrick handled it with ease. We received more photos than expected and we could not be more please with our experience and our photos! Thank you Patrick and Destin Beach Photography Company.

C Delahay
When you combine our photographers' experience with a high level of joyfulness, you are destined to create happy clients. When shopping for your photographer this is something that should be prioritized.
Upbeat photoshoots
We all have been there. Holding that smile which seems to be forever while the photographer is trying to get the shot, low and behold your toddler is on the verge on a meltdown. How stressful! With Destin Beach Photography Company's photographers, we stay engaged with clients to prevent this from happening. We also have a few other tricks up our sleeves for toddlers and baby photoshoots.

We know traveling with large groups takes a lot of coordination and organization. Our pro photographers conduct the shoot with efficiency while still maintaining a fulfilling experience. We are well versed in large group breakdowns and knowing which questions to ask, while also giving directions to assure you get the variety you need.

The beauty of our beach photoshoots is that, for one price, you can own all of your photos, not just 10 or 20. You will receive a wide variety of poses with basic editing completed. If you are looking for extra editing, this can be coordinated for your favorite photos. On average, a family photoshoot is about 70 – 130 photos or large groups range from 120 – 200 (give or take). We really believe that if you are purchasing the files you should have all the files. Another bonus is our turn around time is very quick!
Customer service is top notch
When booking any service, there should be a fundamental sense of customer service. Going the extra mile for a client is how we operate. We love sharing our knowledge of the area and our of services we offer.
Our experts will help guide you to choosing an appropriate date, time, and meeting location for you photos. We also take our time to really communicate how it works while answering any questions you may have. Our goal is to give provide you our information to see if we are the photographer for you.

The pro photographers exude customer service within every photoshoot they conduct. When managing groups with all different ages, physical capabilities, you name it, you must have an arsenal of tools to assist everyone as well as capture really great photos!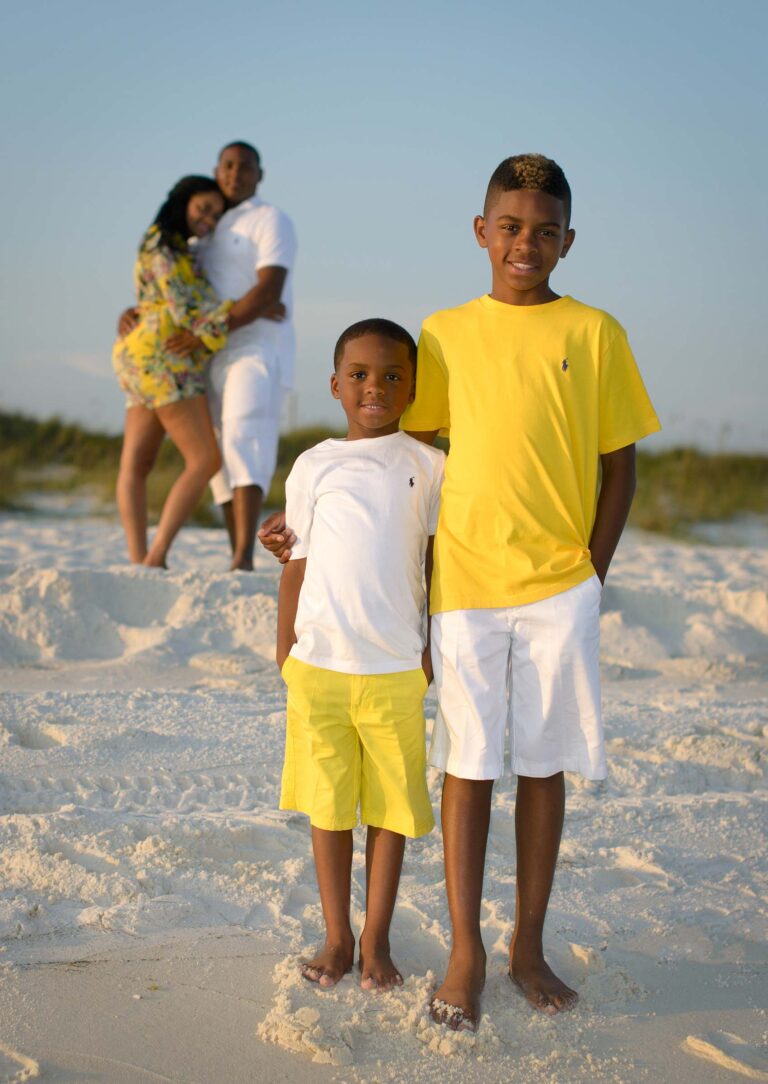 Take aways…
Destin Beach Photography Company implements a high quality service for an affordable price. Here are a few things to recap our photography services.
No session fee or deposit.
Unlimited people can attend the photoshoot.
For one price, you get copyright release to the entire photoshoot.
Turn around times are very quick.
Customer reviews are outstanding.
When shopping for your family beach photographer, also remember to research your photographer's galleries, pricing information, and customer reviews.

And if you are looking for a family photographer, Destin Beach Photography Company would love to be your Destin Beach Photographer!
View our sample family portfolios or contact us for more information.