How to choose the best Destin wedding photographer
Planning a perfect Florida beach wedding isn't hard when you have tips from the pros to help guide you.
We are here to share our most helpful tips and tricks from our local wedding pros from Destin, Fort Walton Beach, and Miramar Beach, Florida. These tips will assist in an effortless journey to planning your dream beach wedding. Among these essential tips, we also include how to choose your perfect Destin FL wedding photographer.
Budget, style, and customer satisfaction
Let's be honest. Planning a wedding nowadays can practicality break the bank. But do you remember the saying, "You get what you paid for?" Think about your budget. What is important to you — your attire, the guests' food, or your wedding day memories captured in photographs?
When it comes to wedding photographers in Destin, FL, there are so many choices. How does one choose? We highly recommend doing your shopping by calling around, visiting websites, and most importantly, reading reviews from previous clients.
Prior to starting your "shopping" experience, we strongly suggest coming up with a budget for your wedding photography needs, so that you have a starting place. Most Destin wedding photographers will include pricing on their websites along with sample work. If you like their photos and their budget, just make sure to check client reviews before scheduling.
Destin Beach Photography Company is an award-winning wedding photography service that is budget friendly while maintaining excellent quality. Additionally, our Destin Wedding Photographer packages are custom to your day and they have serviced the Destin area for most than 15 years. In addition, we have Destin Wedding Video services. Our photography company checks all the boxes!
Find an expert local wedding planner
Planning a wedding is hard enough when you live right in town. When you're planning a destination wedding, the stress is compounded by the distance and the inability to be right on site.
Luckily, a wedding planner knows all the ins and outs of making sure your beach wedding goes smoothly. They can help you choose the perfect venue, find your band, stay on top of your florist and even make sure your cake gets to the venue on time.
And, working with a local wedding and event planner is one sure way to make sure you don't show up at the beach only to find out you don't have the necessary permits for your wedding party!
Avoid busy holidays
Destin Florida is a popular destination for families and events during the summer and things can get pretty crowded. Therefore, one of the best ways to ensure a stress-free, private wedding is to avoid the busiest weekends, like Memorial Day, Fourth of July, and Labor Day.
Moreover, if you plan your wedding during the off-season, you may even score some great bargains in venues and lodgings. Often, they discount their rates outside the tourist season. Check dates just before and just after the season and you'll enjoy the all the benefits of our beautiful weather without the crowds.
Consider the mood of your wedding when booking a venue
One of the reasons NW FLA is such a popular wedding locale is the wide variety of wedding venues available for your big day. From the casual charm of a "backyard" wedding in one of the homes available through a local rental agent to the pure luxury of a resort wedding at the Sandestin Golf and Beach Resort, there are venues that will appeal to whatever mood you want to set on your day of days.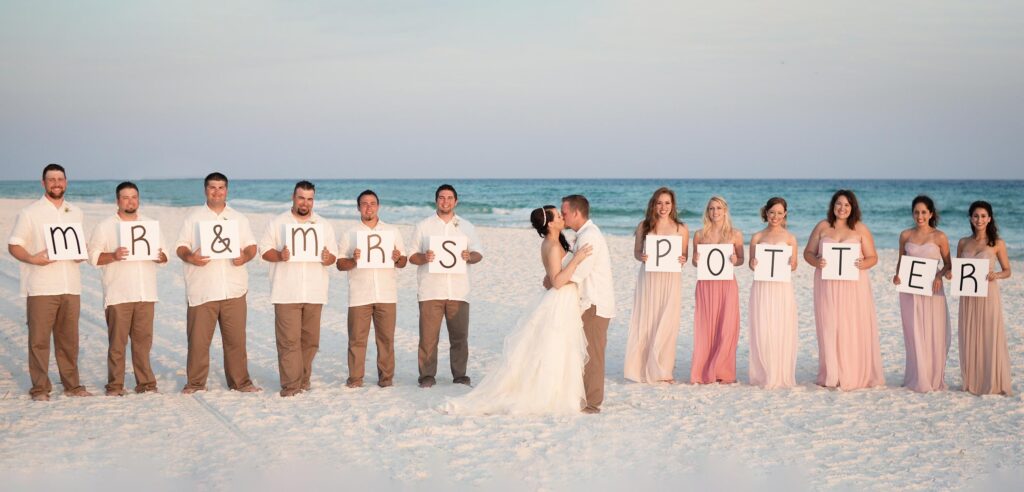 Take aways…
Remember, this is your special day with the one you love. Take a deep breath and really think about what your priorities are for your wedding. Every wedding is unique, but they all have the main focus of celebrating love. Happy Wedding Planning!
If you are looking for a wedding photographer or videographer, Destin Beach Photography Company would love to be your Destin Beach Wedding Photographer.
View our sample wedding portfolios or read our reviews at WeddingWire.com.
Contact us for more information.