Pro tips on Beach Baby Photoshoots from our Destin photographers
Planning a perfect family photo can be stressful, especially with a baby. Here are some tips to stress-free family and baby photoshoots.
Planning your family beach portraits should be exciting and fun. So let us help you prepare your family for an effortless photo session. These tips can be used for kids of all ages, but particularly babies.
We're sharing some of our essential prep tips from our Destin photographers and 30A photographers to make it easier on the family and so that our photographers have the best chance to conduct an awesome baby photo shoot for you!
Pre-planning your family & baby photoshoot
Northwest Florida is a popular destination for families, so we understand your time is limited here. However, planning your family photo shoot mid-stay is a life saver. We all know life with kids has many unplanned obstacles, from not feeling well to unpleasant sunburns. But this does not have to dictate your family beach memories in a photograph.
Book your Destin beach photographer in the middle of your vacation just in case you need to reschedule due to weather conditions.
Plan a night where you have no other plans.
Next up is packing. You finally decided on the most adorable outfit for your little cutie. Try to also find an alternative outfit to bring as a back up.
Bring a spare outfit in case of spit up.
The second outfit doesn't have to break the bank–comfort is key.
Spare outfits are a good opportunity for an alternative look. (Bring a little blanket for changing.)
You're done pre-planning and today you meet your friendly photographer in Destin for your long awaited dream baby photoshoot. Stay tuned as these next tips are a gamer changer.
Yes, it's vacation–but don't skip the nap
We all know how important rest can be for anyone at any age. But when you have your baby on the beach all day and they happen to be "off" their schedule, this can make for a grumpy little one. So sticking to your normal routine while on your vacation in Destin (as much as possible) is highly recommended.
On the day of, try an indoor activity so kids are less tired.
Hit the beach early in the morning, so kids are ready for afternoon naps.
Bring their favorite blanket or stuffed animal so that it reminds them of home.
Don't force it. If they are just too excited for vacation, simply just have some relaxation time.
Your kiddos are now well rested and everyone is getting ready for family beach photos. Make sure the kids have something in their bellies–a full belly is a happy heart!
Give the kids something to eat while you're getting ready.
Pack non-messy snacks — and lots of them. Puffs, yogurt bites, and fruit snacks are all really great ways to cheer your little one right up.
For toddlers, maybe a favorite candy they don't usually have. You'll have them smiling in no time!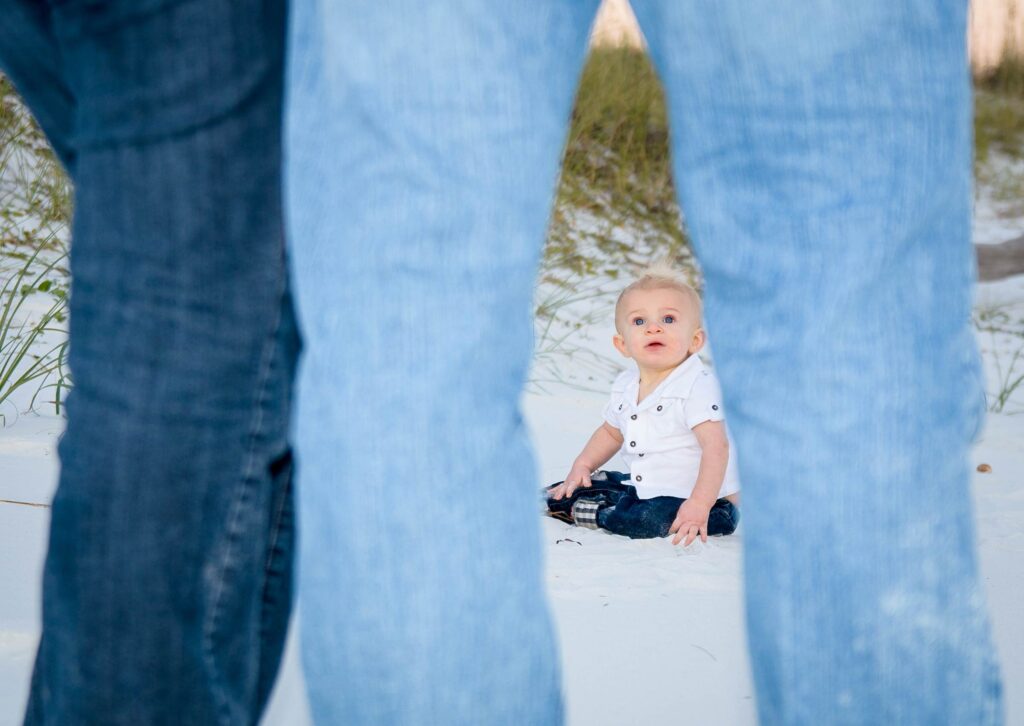 Props can be a lifesaver during baby beach photos
Although the Emerald Coast has pristine white sand, not all babies are fond of it. If it is the child's first trip to the beach, get them acclimated with the sounds of the Gulf, smells of the beach, and texture of the sand. This will help meeting the photographer to be just one more new experience on the family vacation.
In addition, bringing props to your family portrait session can be a lifesaver for babies that dislike the sand. Simply bring a towel or a little beach chair to lighten their mood.
Ideas for Props: blanket, chair, sailboat, starfish, balloons, a decorative sign, a sonogram photo, a book, a favorite stuffed animal.
For special occasions such as Gender Reveals or Birthday Photoshoots bringing items like a smash cake or gender smoke canons really bring the photos to another level.
We hope these tips lead to a stress-free family beach portrait that you will cherish for years to come. Our experienced Destin Photographers are available daily to accommodate your entire family this trip. Larger Groups? No problem. We specialize in Large Group Portraits!
Or view more sample beach baby photos.