How to plan for a large group family portrait when visiting Destin, FL
Ethereal lighting, gorgeous colors, waves in the background – Destin beaches offer everything a photographer could want to create stunning family beach photos.
Our professional Destin photographers have taken beach photos of thousands of families. And they've got some great tips that will help your entire family look awesome in family photos.
While having stunning photos is vital, planning for the big day is just as important. From booking, to directions, to outfit planning–ugh. There has to be a better way! Our large group portrait photographers in Destin are here to share helpful advice to make portrait planning effortless–so you can truly relax this vacation.
Photographers in Destin Fl -The Shopping process
You may be browsing a family beach photographer's portfolio and thinking "WOW, this photoshoot is stunning of this family of three." However, think of the larger picture here, no pun intended. Can this photographer angle my group of 35?
What is this photo shoot going to look like? Four different families with grandparents and a whole bunch of little kids? Our Large group family portrait gallery should put your mind at ease. We have many photoshoots under our belts and the skill set to handle your group of 35!
You have to be experienced and efficient to create a fun photoshoot while maintaining quality. Although Destin Beach Photography Company specializes in large group beach photos, with every photo appointment we make sure to capture every combination your group allows. This results in happy clients and beautiful photographs. Making us the go to for your Destin Family Photographer!
Our booking process
From the jump, Destin Beach Photography Company is unique. We are open 7 days a week and accept same day bookings. During booking, you will speak with a highly skilled photographer who has been photographing on the beach for many years and has many years of experience on suggested times, directions, and how we conduct our photoshoots.
Another perk when booking is we do not charge anything during booking your large group portrait. We make sure to thoroughly go over directions and make sure clients have all questions answered prior to their photoshoot.
Suggested topics to inquire about during your booking are…
Amount of people attending.
Think about who is attending. Does any family member need wheelchair access? Do you have someone celebrating a Surprise Proposal? Are you only concerned with heavy focused group shots because this is the first trip with the entire family that lives around the country? When discussing the number of folks attending the session, it is important to share details so that your photographer in Destin can book you for success.
Talk to all family members to get everyone on board.
Start a group chat, a Zoom call, or do whatever it takes to get all members involved. We recommend giving someone the reigns to call the shots to speak on behalf of the entire group. Typically this happens naturally, due to those Type A's out there. However, coming to a group decision on what is the goal and making sure everyone agrees on attending is very helpful.
Timing is everything.
Once you discuss the number of people, your Destin photographer will suggest ideal times. If you really like the brighter color sky and don't mind it being bright, mention it during your booking. If you like the more subdued photos during the "Golden Hour" just ask. We are here to explain and help you get the photos your looking for!
Save the date.
Make sure to share the date and time and location with everyone involved. When planning other things to do in Destin, FL, this vacation, we recommend some relaxing actives for the morning of your scheduled family photo session. A pool day? A spa day? You want to save the kids' energy to smile big for the camera. Also, taking your time to get ready is very effective. No one wants to be rushed, so setting the tone throughout the day will lend to everyone getting along nicely.
Outfit choice.
Matchy-matchy outfits can make your photo look staged, but you do want to coordinate colors and styles to some extent. Some families get stunning beach photos by dressing one kid in a bold print, then drawing colors for the other outfits from those colors. Another option that always looks great is for everyone to dress in khaki bottoms (or blue jeans!) and white tops – but with the styles varying. If you want a preview to help you decide, check out out our photo galleries for some ideas.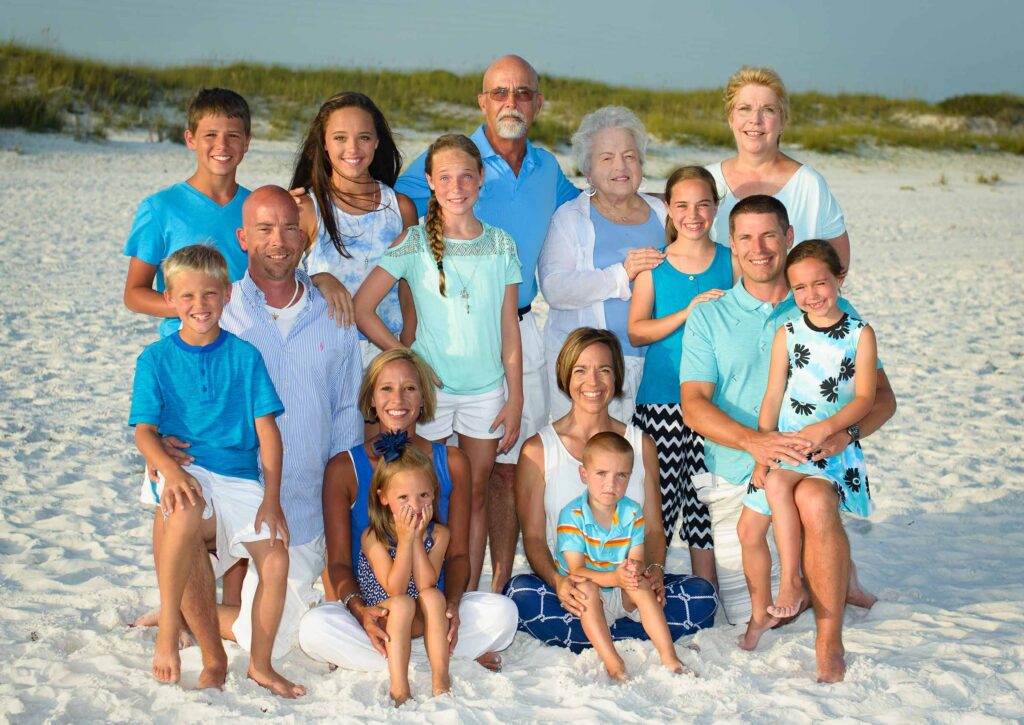 Our photography service areas
If you have ever been to the Emerald Coast of Florida, you may be familiar with the roads and how condensed the towns seems. This is true for surrounding areas in Destin. We have many clients from Miramar Beach, Santa Rosa, and Sandestin that we service at Henderson State Park.
The beauty of Henderson State Park is it provides stunning backdrops while being centrally located to clients in many of the surrounding areas such as Destin and Fort Walton Beach. We know how valuable your time is on vacation, so we can assist with tips on traffic and transportation.
Planning for a large group vacation can be stressful and time consuming. We want your photo experience to be stress-free. Our Destin photographers pay attention to every detail so you can be comfortable knowing you are in good hands, while having fun and, most importantly, getting those family portraits you set out to achieve!